December kicks off fast with another IPC satellite on tonight, where for a mere €50 you can win your ticket to the €250k guaranteed IPC in January. This is immediately followed by the 10k guaranteed First Friday tomorrow night. And after what has become known as the Miracle of Claremorris, which saw none other the Shane "Blind Bet" Keary taking down an IPT main event and winning €5500, news which understandably excited the entire Omaha cash game community, there is an added bonus of a €250 ticket to this month Winter Festival main event in the Eglinton on Shane's head as a bounty for whoever knocks him out of tomorrows First Friday tournament (his first by-in only, otherwise given Shane rebuy frequency, we could be on the hook for a dozen tickets).
You will barely have time to catch your breath before the Winter festival is upon us, as it is on in just 2 weeks Dec 15th-18th, the full schedule of event is available on the website. But the short version is that there is over €60k guaranteed over that weekend and it really is not to be missed. Getting your hands on a slice of that 60k would be the perfect way to head into Xmas.
We should note that the Miracle of Claremorris wasn't the only win for an Eglinton regular last weekend, in fact it wasn't even the biggest win. The Legend that is Frank Dunleavy decided to give the Omaha cash game a go in Claremorris after being eliminated from the tournament, and he fucking crushed it. I am reliably informed that his winnings comfortable eclipsed those of the tournament winner. You can judge for yourself how much the old fox has in front of him yourself.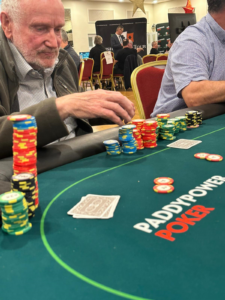 Nice one Frank.